West Virginia Public Television Episode
How Old Are the Hills?

Curious about how to read the history of the earth from rocks? Take a tour of the geology near Morgantown at Cheat Lake and Coopers Rock with the West Virginia Public Television Nature Walk series episode How Old are the Hills?, produced by The Walkabout Company. Follow along as two West Virginia Geological and Economic Survey geologists help two high school students use the observations they've made of present stream and lake deposits to decipher the history of the area's 300-million-year-old rocks. The 20-minute show is geared to people of all ages and backgrounds who are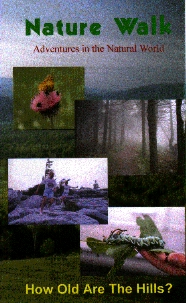 interested in learning how to read West Virginia's history preserved in its rocks. Viewers can follow along the tour and check their understanding of the information by answering questions given at the beginning of the show and answered at the end. Join geologist Claudette Simard and two high school students as they observe how and where some of today's commonly seen features form along Cheat Lake and a nearby stream. These features include ripple marks, rounded gravels, stream potholes, and buried tree trunks. Then at nearby Coopers Rock, see if you come to the same conclusions as the students in deciphering the history of the 300-million-year-old rocks with the same features seen earlier. The trip continues as geologist Tom Repine joins the students and takes them to roadcuts on Interstate 68 for a look at tree fossils, an ancient stream channel, and coal swamps. Make new observations as well as using what you just learned with the students from the present deposits in interpreting the ancient history of these rocks. See tracks left behind by a large amphibian who walked in the mud 300-million years ago in rocks on display at Mont Chateau, headquarters of the West Virginia Geological and Economic Survey. Hear the answer to the question of how old are the hills in West Virginia. How Old are the Hills? is currently being aired on West Virginia Public Television four times a year. Look in the daytime West Virginia Public Television listings for dates and times or visit The Walkabout Company's web site for the schedule. Information on purchasing a copy of the episode for $15 is also available on Walkabout's web site.
---


Page last revised: January 9, 2006
---
Please send questions, comments, and/or suggestions to webmaster.

Page created and maintained by:
            West Virginia Geological and Economic Survey
  Address:  Mont Chateau Research Center
            1 Mont Chateau Road
            Morgantown, WV  26508-8079
Telephone:  304-594-2331
      FAX:  304-594-2575
    Hours:  8:00 a.m. - 5:00 p.m. EST, Monday - Friday

Permission to reproduce this material is granted if acknowledgment is given to the West Virginia Geological and Economic Survey.