Video of West Virginia's Geologic History Available

The story of West Virginia's geology, its prominent role in creating this "wild, wonderful" State, and its impact on West Virginia's history, culture, and economy is told in an informative and entertaining video, Rocks and Rivers: West Virginia's Geologic Heritage.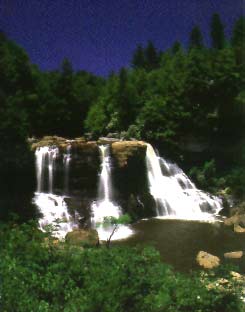 Produced by the West Virginia Geological and Economic Survey in cooperation with the I.C. White Memorial Symposia Fund, Ltd., this interesting and easily understandable 19-minute video uses live-action footage and contemporary and historic photographs to explain the scope of the Mountain State's geology:
how West Virginia's mountains were formed;
how nearby glaciers affected the State;
the formation of the mineral resources that today provide jobs for thousands of West Virginians;
how the discovery of salt along the Little Kanawha and Kanawha rivers led to the development of the modern petroleum industry;
the connection between geology and Civil War raiders like John Brown;
the beginning of industrial development, West Virginia's undeniable appeal to tourists, and much, much more.
Rocks and Rivers: West Virginia's Geologic Heritage vividly chronicles the strong tie between the natural resources and landscapes formed in West Virginia's geologic past and the cultural and economic development we know today. The video takes the viewer on a "geologic tour," explaining the State's coal, oil and natural gas, salt, clay, sandstone, limestone, and river gravel resources and their role as essential raw materials needed to run modern society. "I think viewers will be surprised by how much they'll learn about the Mountain State!" commented Claudette Simard, formerly a geologist at the Geological Survey and executive producer of Rocks and Rivers: West Virginia's Geologic Heritage. "Like all geologic research and educational programs conducted by the West Virginia Geological and Economic Survey," continued Simard, "this video was designed to inform and educate people about West Virginia. Through entertainment media, it actively shows the benefits and the risks of living in such a geologically interesting State." Ordering VHS copies of Rocks and Rivers: West Virginia's Geologic Heritage


Page last revised: November 9, 2005
---