Geoscience Education in the Mountain State:
RockCamp III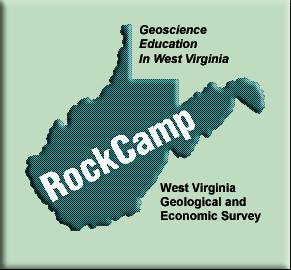 RockCamp participants have asked for more extensive learning opportunities--especially field-oriented ones. Honoring their request, RockCamp III was developed to provide them with a chance to see the geomorphology, tectonic, structural, and stratigraphic geology of the New River. Twenty-six teachers participated in this 6-day trip. We began at the headwaters of the New River in North Carolina and concluded with a day of whitewater rafting on the New in West Virginia. It is amazing how relevant a discussion of rocks can be to a successful run of the rapids! Each participant was required to develop an activity that would allow them to share some portion of their experience with their students.
---
For more information, contact Tom Repine, WVGES Education Specialist (repine@geosrv.wvnet.edu)
---


Page last revised: January 5, 2006
---
Please send questions, comments, and/or suggestions to webmaster.

Page created and maintained by:
            West Virginia Geological and Economic Survey
  Address:  Mont Chateau Research Center
            1 Mont Chateau Road
            Morgantown, WV  26508-8079
Telephone:  304-594-2331
      FAX:  304-594-2575
    Hours:  8:00 a.m. - 5:00 p.m. EST, Monday - Friday

Permission to reproduce this material is granted if acknowledgment is given to the West Virginia Geological and Economic Survey.