Geologic Maps of West Virginia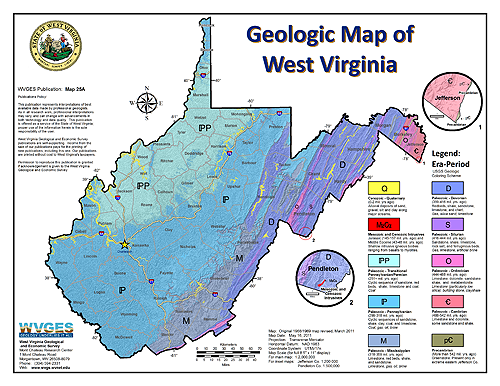 Page-Sized Simplified Geologic Map
USGS and FGDC-compliant color scheme showing Precambrian, Mesozoic and Cenozoic units
Description on page two
Choose a high or low resolution map below
Or choose the interactive, layered PDF in which you can turn layers on and off, such as geologic eras or periods and text. View and print what you want (Information on interactive, layered PDFs).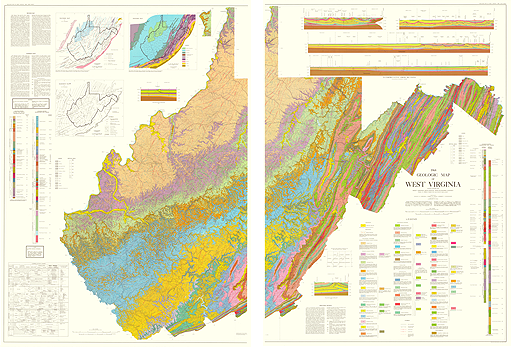 WVGES Map-1, Detailed State Geologic Map
(Print or Digital)
Our 1:250,000-scale, 42" x 58", 400 dpi map in either printed (on two sheets) or in digital format is available from our
Publications Catalog, Map-1
.
Included on this map are:

More Geologic Information
Our
website
is full of information pertaining to the state's geology. You may wish to start with the following pages:
Page last revised August 31, 2022.
Please send web site questions, comments, or suggestions to
webmaster
.

WV Geological & Economic Survey
1 Mont Chateau Road
Morgantown, WV 26508
Phone: (304) 594-2331
Fax: (304) 594-2575
info@wvgs.wvnet.edu


Welcome Page